Promotional Custom Logo Global Sonic Rocks®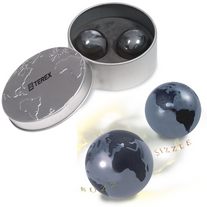 Product Description
From the makers of Sonic Rocks®, Global Sonic Rocks® are ball-shaped magnets embossed with a world globe. Spin them, balance them, pinch them, make them whistle and sing. A great stress reliever during a busy work day!
Product Details
Custom Logo Global Sonic Rocks®.
Features a global map etched on the magnets and stamped on the lid of the tin.
Colors:Gunmetal.
Decoration Info

Order Process

Production Time